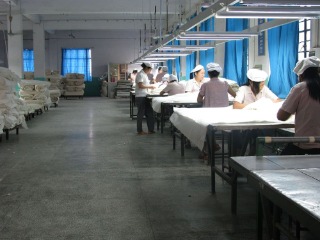 Ningbo Xindachang Weaving Co., Ltd. is originated from Ningbo Dachang Cloth Factory with a history of more than one hundred years. We have 136 air jet weaving machines with a comprehensive set of equipment. Our company consists of two pre-weaving production assembly lines: short fiber and long silk.

We are a professional manufacturer specializing in all kinds of woven fabric, most of which are the medium and top grade fabric. Our annual production capacity is 10,000,000 meters. We developed some new items such as cotton, CVC, cuprene, PBT, modal and decoration fabric in recent years. Furthermore, we set up a subsidiary company, Shaoxing County Pengtai Import and Export Co., Ltd. to better serve overseas customers. Main products of our subsidiary are cotton series products, special embroideries, CVC rotten flowers and printing stamps.

Our company successfully developed a new product made of lyocell (tencel) fiber this year, which is famed as an environmentally friendly fabric. Therefore we have become one of the first enterprises producing lyocell / flax fabric in China. We welcome more friends to contact us for greater cooperation.